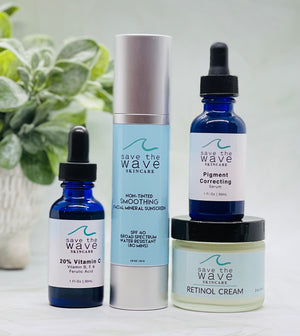 The perfect complexion
Light & Bright Regimen
This targeted regimen has everything you need to brighten your complexion, reduce pigmentation, and smooth fine lines.
perfect Skin Ahead
Save The Wave Skincare
Loyalty Program
Sign up to earn Loyalty Points to redeem for discounts on future purchases.
Start Earning Today
Our Mission
At Save The Wave Skincare, we have created a medical grade, eco friendly, cruelty free, and targeted skincare line, so you can have healthy + beautiful skin with products you can feel good about.  As healthcare professionals, we understand the value of scientifically proven ingredients to achieve the best skincare results. We use the highest quality, most effective, and safest ingredients in every product. 
Everything you need, and nothing you don't.  
Our love of all things sun, beach, ocean, and Earth motivated us to create a product line that's safe for you and our oceans by using reef friendly ingredients and environmentally responsible packaging.  We strive to improve and innovate in ways that reduce our impact on the environment and vow to dedicate a portion of our profits to ocean and environmental conservation. 
We would love to welcome you to the Save The Wave Skincare Family. 
~Heather & Elena
Skincare with Purpose
Environmental Conservation
We vow to never use chemical ingredients that will harm our oceans or delicate coral reefs.  With many plastic free packaging options, we strive to reduce our impact on the planet.  As always, our products are NEVER tested on animals and are made in the USA.